Water Beds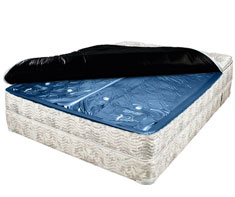 A Water Bed is a type of sleeping bed where the mattress is filled with water.

A water bed typically consists of a vinyl mattress that is filled with water, and rests inside a wooden frame which supports the bottom and sides. A safety liner is in place to catch water in event of a leak.

Some models of Water Beds have baffles to help minimize the water from sloshing around. And some models have electric heaters to to keep the water bed at a comfortable temperature.
Shown in the 'Routine Care' section are the recommended routine maintenance tasks for your water beds. The 'Q & A' section shows answers to common questions. And the 'Articles' section provides helpful articles about your water beds.
Water Beds




Compliments of

The Property Inspection Pros
Jeff Duncan
760-525-5340