Solar Power (photovoltaic)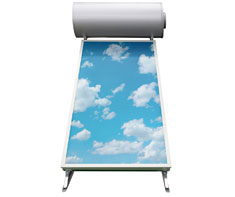 Photovoltaic Solar Power is a type of solar power system that uses special solar panels which convert sunlight directly into electricity.

A Photovoltaic Solar Power system will consist of items such as: one or more photovoltaic (PV) panels that are typically mounted on a roof; electrical wiring that brings the electricity down from the roof; a DC/AC power converter (also known as an inverter); a racking system that holds the solar panels to the roof; and electrical interconnections. The system may also include a maximum power point tracker; battery system and charger; solar tracker; energy management software; and solar concentrators.

If your solar power system is the type that makes hot water instead of electricity, then you should instead mark the checkbox for Solar Power (thermal).
Shown in the 'Routine Care' section are the recommended routine maintenance tasks for your solar power (photovoltaic). The 'Q & A' section shows answers to common questions. And the 'Articles' section provides helpful articles about your solar power (photovoltaic).
Q & A
So far, no question have been submitted yet.
Routine Care
There are no routine care tasks for this feature.
Solar Power (photovoltaic)




Compliments of

The Property Inspection Pros
Jeff Duncan
760-525-5340