Microwave Oven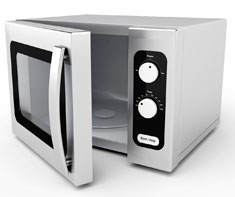 A Microwave Oven is an electric kitchen appliance that sits on a counter or it can be built into a cabinet. This appliance uses microwave radiation to stimulate the food and liquids that are put inside of the unit, to generate the heat which raises the temperature to cook the food or warm up the liquids.

A Microwave Oven is different than an 'Oven (electric).' An electric Oven uses electricity to raise the temperature of a heating element which gets hot and then raises the temperature high enough inside of the oven so that it begins to cook the food that is placed inside of it. Also a Microwave Oven is typically only large enough to hold a single plate of food, where an electric Oven is much larger, and can hold several pots and pans at the same time.

If you suspect problems with your microwave, it is recommended that you contact a trained professional. Routine maintenance for a microwave oven should be limited to cleaning only.
Shown in the 'Routine Care' section are the recommended routine maintenance tasks for your microwave oven. The 'Q & A' section shows answers to common questions. And the 'Articles' section provides helpful articles about your microwave oven.
Q & A
So far, no question have been submitted yet.
Microwave Oven




Compliments of

The Property Inspection Pros
Jeff Duncan
760-525-5340