Fireplace (gas)
Question Topic
Fireplace (Gas) Odors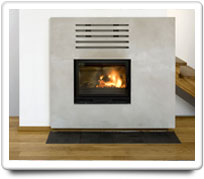 Home-Wizard™ calculates your ideal home care program to avoid problems with your Fireplace (gas), but sometimes trouble can still occur. Here are answers to questions about fireplace (gas) odors.

QUESTION FROM Julie in Colorado
My gas fireplace continually has a strong odor when on (kind of like burning urine). We have lived here for 2 years and have not had it serviced. Is it possibly a simple matter of needing a professional cleaning service, or could it be something else, more dangerous?
---

ANSWER FROM HOME-WIZARD
Julie in Colorado:

No, it is not normal for a gas fireplace to give off a strong smell for this long of a time. The strong "urine" smell could be urethane insulation that is too close to the firebox or vent pipe. Or if you are running on natural gas, it could be the mercaptan odorant in the gas which is leaking.

But regardless, I would strongly recommend that you be safe and shut off your gas fireplace until you have the unit thoroughly inspected by a service technician who is qualified to work on your particular model of gas fireplace.

The technician should inspect whether there is insulation anywhere that is too close to the unit or vent piping. And the technician should also check for any gas or vent piping leaks.

Hope this is helpful.
Home-Wizard.com

QUESTION FROM simone
hi i have a gas fire and when the fire is switched off, and its windy outside, there a strong smell of gas seems to blow from the fire. this only happens when its windy outside and the fires off. is this normal?
---

ANSWER FROM HOME-WIZARD
Dear Simone:

No, this is NOT normal. We would suggest that you immediately contact an authorized service techician for your gas fireplace.

When it is windy outside, and blowing across the top of your chimney, it can be causing a pressure differential between the inside of your house and the outside of your house. This could be causing the gas from your fireplace to be sucked into your home. This situation is similar to problems in some homes that show up when an exhaust fan in a bathroom or kitchen causes a negative pressure differential, which can also cause gas from a fireplace to be sucked into the house, rather than venting out the chimney.

You should have your fireplace checked thoroughly for leaks, and whether it needs a fresh air make-up kit, etc.

Hope this is helpful.
Home-Wizard.com

QUESTION FROM nann
We have a vented gas log fireplace. We had our home inspected prior to moving in this past Spring. There were no issues found at that time. I know the home was vacant for some time before we moved in and I don't believe the fireplace has been used for a couple of years. Today I turned on the gas valve and tuned on the switch for the fireplace. Within a 1/2 hour the house smelled strongly of gas. Is this normal, will it go away? Or should we have this checked again. I'm not familiar with gas fireplaces but I don't see any other controls on the fireplace so I don't know if there is anything to adjust or not.
---

ANSWER FROM HOME-WIZARD
Dear Nann:

If you are smelling a strong odor of gas from your gas fireplace, then IMMEDIATELY shut down your fireplace and open some windows to air your house out. And do NOT turn your gas fireplace back on until you can get it inspected by a trained professional.

When a gas fireplace has been off for a while, it is not unusual that it might have a slight smell from dust than maybe burning off of the elements. But it should NEVER smell like gas, which would indicate some sort of gas leak.

Hope this is helpful.
Home-Wizard.com

QUESTION FROM Anthoney Lowry
We have a natural gas vented fireplace that we use almost daily. Twice in the last ten days there has been a strong odor, kind of like burning plastic, coming from it that sets off the carbon monoxide detector. The flue is open and clean all the way to the top of the chimney which runs straight up from the top of the fireplace. The first time i found half of a bird behind the logs and thought that may have been the problem. But this time nothing was in the fireplace that is not supposed to be there. The logs have also started to soot up, something that hasn't happened before either. Any ideas what might be the problem? Thanks.
---

ANSWER FROM HOME-WIZARD
Dear Anthoney:

It sounds like something has definitely changed with your vented gas fireplace. Setting off CO monitors and sudden sooting are NOT good signs.

I would suggest that you not take any chances, and contact your natural gas supplier about having a trained service technician come out to do a visual inspection of your fireplace, burner, pilot and flue. In the meantime, I would strongly suggest not running your fireplace.

Probably not the answer you were hoping for, but it is best to play it safe, especially a vented gas fireplace in your home.

Hope this is helpful.
Home-wizard.com

QUESTION FROM Billsfishing
Hi, I have a propane gas insert. I think it is ventless. The box has no openings in it. My problem is, it gives off a odor. I'm not sure how to explain the odor, propane? I'm not sure, but I don't like the smell. Help!
---

ANSWER FROM HOME-WIZARD
Dear billsfishing:

We recommend not taking any chances with odors from a propane gas fireplace. You should contact the manufacturer of your particular gas fireplace, and get a list of qualified service technicians in your area. And if it were me, I'd be slightly opening a window in the room with the fireplace, to provide fresh air until you know what the source of the smell is.

If your fireplace is brand new, and the smell is somewhat metallic, it could be typical for a unit that is heating up the first several times. But it is better to find out for sure from a qualified service technician for your specific unit.

Hope this is helpful.
Home-Wizard.com